Organic Candle in Porcelain Vessel by Abalon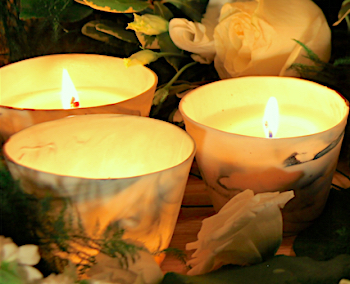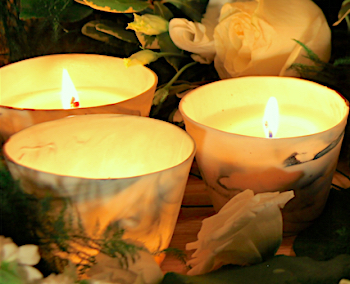 Organic Candle in Porcelain Vessel by Abalon
Beautiful and reusable porcelain with 18k gold, filled with an organic, eco soya wax. We import these pieces directly from the artist. Each detail is considered and created by an artist in London. The founder and artist, Ana Bridgewater, painstakingly sources from reputable, high quality small businesses and farms. The porcelain is made in London, the box in Stoke-on-Trent, the essential oils are distilled in Norfolk, UK and the organic wax is made in USA and sent to her studio in London. Bridgewater creates with the highest standards. The reusable porcelain vessels are stunning and created with the intent to be used again and again as another candle, a tea cup, vase, etc. The wax residue can easily be removed with warm water.
Two scents available: all natural, locally sourced essential oils of either Lavender or a blend of Cedarwood, Rosemary & Lavander.

Two size available: 40h+ burn time, 60h+ burn time

All candles come with one candle refill

Vegan and eco friendly, ethically made & animal cruelty-free

Non-toxic. longer lasting burn, generally 30-50% longer than paraffin, with eco cotton wicks

Organic soya plant-based wax. Soya wax comes from the organic soybean oil; Contains no herbicides or pesticides; Biodegradable

100% natural essential oils with no additives, ethically sourced

Dishwasher safe (top shelf) porcelain vessel, each vessel is unique - photo shows example piece only, each are unique.
There's something magical about this material, it is part of the Earth and has a natural beauty that I love. Born of love, influenced by nature and finished with gold, my pots are handmade, using a strong composite of porcelain. When burning the porcelain in the kiln it becomes translucent, and the light produced is warm and delicate."
The name Abalon was born as a tribute to the artist's father; signing all pieces under this name. Born in the Basque country in Spain, Ana Bridgewater, continued the tradition of giving gifts to the guests at her wedding in England, but couldn't find anything suitable. As the light was fading she had an idea: to make her own candles. This is how Abalon UK was created.