Flight of Birds Mobile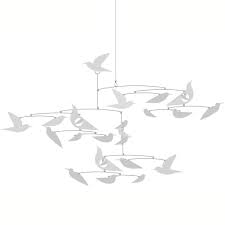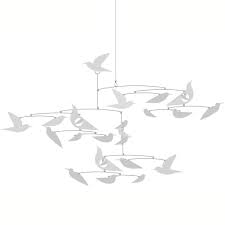 Flight of Birds Mobile
This beautifully designed mobile shows a flight of white birds moving together through the air. One of our most popular gifts for all ages.
This enchanting mobile is from the Katsumi Komagata's collection for Djeco. He is a renowned artist and graphic designer who lives and works in Tokyo. In 1990, he began publishing animated books for children in which he makes use of the beauty of paper. The results of his work with Christel Saddel, a designer of sculptured mobiles are imaginative, floating creations in paper that are both eloquent and fun.
Made from white, painted heavy card stock with plastic coated wire arms, the mobile comes partly assembled. It also includes graphic instructions to complete assembly.