Eames House of Cards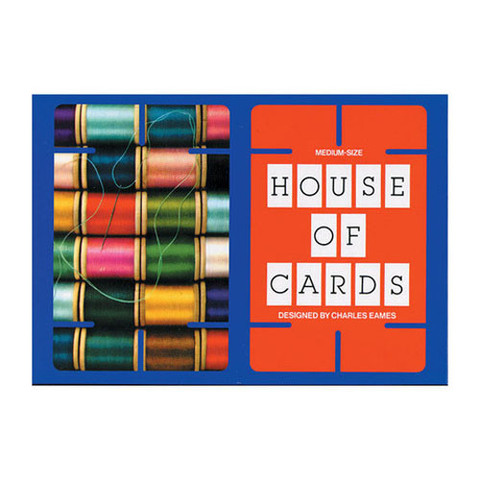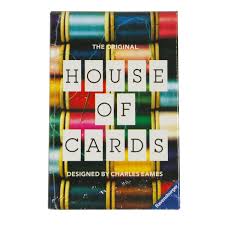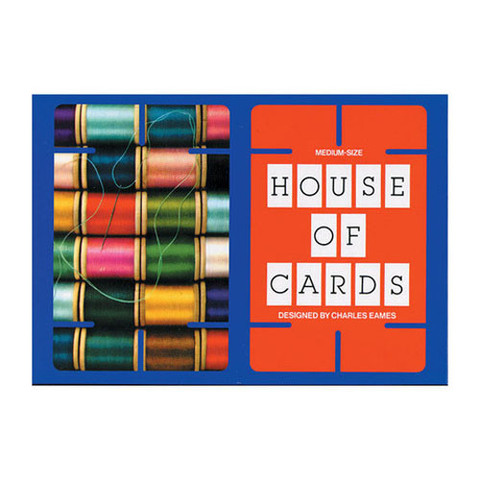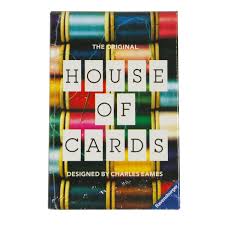 Eames House of Cards
"Toys are not really as innocent as they look. Toys and games are preludes to serious ideas." – Charles & Ray Eames
House of Cards was designed by Charles and Ray Eames in the 1950s. These picture card decks have become universal favorites, and are represented in the MoMA collection. Each card depicts a different familiar object from the animal, mineral, or vegetable kingdoms. Six slots on each card enable the player to interlock the cards for building their dream house (of cards).
Medium Cards: $35
32 Cards
6.87" x 4.87"
Printed on 8-ply stock
Made in Germany
Boxed
Small Cards: $25
Made in Germany
3.75" x 2.25"
Boxed
The Eameses were a husband and wife team whose unique synergy led to a whole new look in furniture. Lean and modern. Sleek, sophisticated and simple. Beautifully functional. Best known for their groundbreaking contributions to architecture, furniture design, industrial design and manufacturing, and the photographic arts, Charles and Ray Eames had big ideas about making a better world, one in which things were designed to fulfill the practical needs of ordinary people and bring greater simplicity and pleasure to our lives.
During World War II they were commissioned by the United States Navy to produce molded plywood splints, stretchers, and experimental glider shells. This led to their development of molded plywood furniture. Their molded plywood chair was called "the chair of the century"
The Eameses adventurously pursued new ideas and forms with a sense of "serious fun." Yet, it was rigorous discipline that allowed them to achieve perfection of form and mastery over materials. As Charles noted about the molded plywood chair, "Yes, it was a flash of inspiration," he said, "a kind of 30-year flash." Combining imagination and thought, art and science, Charles and Ray Eames created some of the most influential expressions of 20th century design – furniture that remains stylish, fresh and functional today.
And they didn't stop with furniture. The Eameses also created a highly innovative "case study" house in response to a magazine contest. They made films, including a seven-screen installation at the 1959 Moscow World's Fair, presented in a dome designed by Buckminster Fuller. They designed showrooms, invented toys and generally made the world a more interesting place to be.
As the most important exponents of organic design, Charles and Ray Eames demonstrated how good design can improve quality of life and human understanding and knowledge.