Kitty Plush Photo Album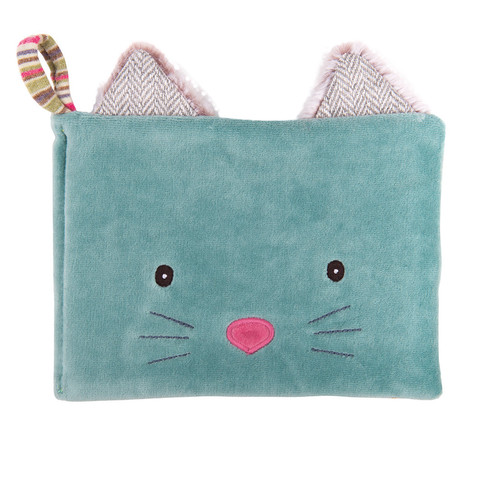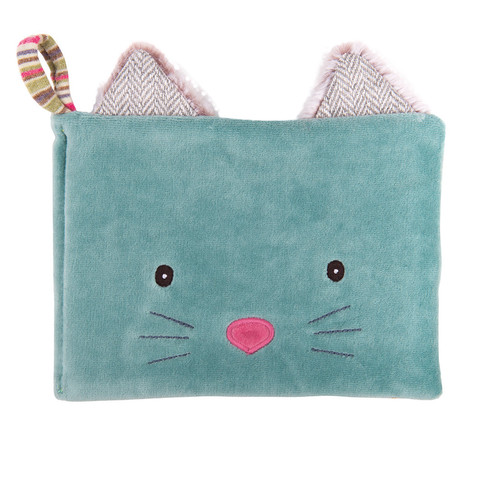 Kitty Plush Photo Album
This is a great gift to give a young child, or parents to be! Studies have shown that facial recognition is one of the first abilities an infant develops, creating important bonds with family. Making this an ideal birth or toddler gift for both boys and girls.
This adorable photo album features the cute little face of Moulin Roty's kitty (we also have the plush toy to match!) Turquoise terry velvet with two little ears in soft fur and herringbone knitted fabric, and a multi colored velcro strap to keep it the album closed. Includes nine pockets to hold your favorite photographs, and a tie to hang it up and carry it around.
Age: 3+
Size: 7x5.5"
Washing instructions: Surface washable. No tumble dry.
Material: cotton, polyester, elastane, plastic
Moulin Roty is a French toy company that has been crafting quality toys and their accompanying stories for 40 years. With a focus on preserving the childhood soul, Moulin Roty is devoted to promoting "softness, fantasy and tenderness." Each character is designed in France using the finest French fabrics and material. Moulin Roty is also very proud to be a worker-owned cooperative, putting quality, creativity and excellence first!
Moulin Roty's manufacturing process is handled by factories and workshops that are selected with the greatest care. They are situated in Romania and France, as well as in China and Taiwan. The technical know-how of our partners is essential in determining where we manufacture our products. Given the company's history and status as a cooperative, Moulin Roty are resolutely open to the world and vigorously defend their values with all who accompany us in the process of creating a product. To answer such high standards, Every toy is tested and approved by an independent French laboratory. All are in compliance with the European standard NF-EN71 and bear the CE mark, which confirms they passed all tests. Toys available to American collectors meet all US safetly standards.